Authors of the present issue
(https://doi.org/10.55612/s-5002-053)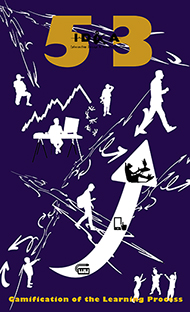 Cesar Analide
is an Assistant Professor at the Department of Informatics of the School of Engineering of the University of Minho, and a researcher and founder member of ISLab – Synthetic Intelligence Laboratory, a branch of the ALGORITMI research centre. He completed his Master's Degree in Computer Sciences in 1997 at the University of Minho and, at the same university, got his PhD in Informatics in 2004, developing work in the scientific area of Artificial Intelligence. At the ALGORITMI research centre, he develops research activities in the Computer Science and Technology (CST) research line, in which he is a senior member of the Synthetic Intelligence Lab.

Mónica Aresta
her investigation interests are related to mobile devices and mobile learning, games and education, computer-mediated communication, online communities of practice and online identity.


Pedro Beça
is a Associated Teacher and researcher at the University of Aveiro. His area of research focuses on games and environmental education, being currently involved in projects related to games, gamification and protection of nature and biodiversity.


Andromachi Boikou
(BSc in Economics, Democritus University of Thrace, MSc in Management Information Systems, University of Macedonia) is a research associate in Centre of Research & Technology Hellas, Information and Technology Institute, Multimedia Knowledge and Social Media Analytics Laboratory (CERTH-ITI, MKLab).She has over 10 years of experience working across a range of fields in the education industry in retail and also worked as a lecturer in Vocational Training Institute (IEK Xenia Thessaloniki). She is currently involved in EU Horizon Research and Innovation programmes run by CERTH-ITI.


Anastasios A. Economides
is Full Professor at the University of Macedonia (UoM), Thessaloniki, Greece. He is the Director of SMILE (Smart & Mobile Interactive Learning Environments, lab at UoM. He holds a M.Sc. and a Ph.D. degree in Computer Engineering, University of Southern California, Los Angeles. His research interests include digital skills, online and mobile teaching & learning, personalised & collaborative learning, user experience and acceptance of smart systems and services. He has published more than three hundred peer-reviewed papers. He has received over 8000 citations, h-index = 46, i10-index = 138. He has been a Visiting Professor at various prestigious Universities (in Denmark, Finland, Spain, USA), Keynote Speaker at several international conferences, principal and/or scientific investigator in many national and European projects and participated in dozens projects.


Victoria Fernàndez Scagliusi
Graduated in Primary Education, mention in English language. She has also completed the Master's Degree in Training and Orientation for Work, both degrees from the University of Seville. She is a doctoral student who is doing her thesis in co-supervision at the University of Seville and l'Università di Scienze Dell'Educazione 'Giovanni Maria Bertin' in Bologna, thanks to the Santa Catalina scholarship from the Real Colegio de España, focused on research in Educational Technology and teacher training.


Javier Fombona
has a degree in Philosophy and Educational Sciences (UNED) and a degree and doctorate in Audiovisual Communication (Complutense University, Madrid). He is professor at the Faculty of Teacher Training and Education (University of Oviedo, Spain), and a former producer at Spain's TVE. He has been a researcher in the field of ICT in education since 1986, and has published extensively in scientific journals. He coordinates several international research projects on new technologies applied to education at different educational levels. He currently coordinates the innovation project 'Materials and audiovisual strategies for a new era, in an international dimension

Bruno Gavaia
Educational developer in Portugal and Master in Mathematic and Science for teaching. Researcher of the Center of Investigation and Innovation in Education (Porto), developing work regarding the thematic of the use of "serious games", "games for learning", and 'gamifications and digital devices in the classrooms'. Trainer on the areas of programming, robotics and the use of technology to develop creativity throughout the construction of tridimensional digital forms, programming apps and orientated classes throughout digital platforms. Primary teacher in Colégio Oceanus (Vila Nova de Gaia – Apple distinguished school), focused on group development activities, storytelling and learning/teaching with RPG based classes.

Gonçalo Gomes
is an Assistant professor at Universidade de Aveiro since 2006 and researcher for the Research Institute for Design, Media and Culture [ID ], he develops studies in the Participatory Design for the Future Cultural Heritage field. He is a specialist in the scientific area of communication and service design and, since 2012, a member of the ID+ DESIS Lab, an associate of the international DESIS Network – Design for Social Innovation and Sustainability.


Ricardo Hernández-Dzib
He has a degree in Education from the Universidad Autónoma de Yucatán, in Mexico, and training in Digital Content Creation in the Educational Environment from the Universidad Tecnológica Metropolitana and Digital Competences from '@prende' and 'profoturo' (Mexico). He is a primary school teacher. He has given courses and conferences on educational gamification, game-based learning and board game design. He has published board games with an educational approach with various publishers, such as Okol Invasión for Pulprint Games and Mayan Bee't with Wild Life Games. His research interests are the application of contemporary methodologies in teaching didactics in primary and secondary education. He is currently part of a project for the application of collectible card games together with the KODEM TCG team.


Carmen Llorente-Cejudo
Doctor in Educational Sciences and Lecturer in the Department of Didactics and Educational Organization of the Faculty of Educational Sciences of the University of Seville. Director of the Department of Didactics and School Organization and Member of the Didactics Research Group: Technological and Qualitative Analysis of Teaching-Learning Processes, University of Seville. She has participated in several research projects on the competences and skills of students in ICT, as well as on the training of university teachers in methodological strategies for the incorporation of online learning in the European Higher Education Area, or Augmented Reality for university teaching, among others. She is the author of several works related to e-learning, such as: Blended Learning. Design of actions for learning, University Teaching and Web 2.0 Technologies. Renovation and innovation in the European Space, or Blended Learning through telematic networks. She has also participated as a speaker at national and international conferences related to the field of Education and Information and Communication Technologies at different educational levels.

Eloy López-Meneses
is Professor at the Pablo de Olavide University (Seville, Spain). PhD in Education Sciences in 2008 and extraordinary doctoral thesis award from the University of Seville. Director of the Research Group EduInnovagogía (HUM-971). Editor of the International Journal: 'International Journal of Educational Research and Innovation (IJERI). Director of the Institutional Chair of Education in Emerging Technologies, Gamification and Artificial Intelligence (EduEmer).Researcher in more than 25 competitive projects related to ICT Policies in Educational Centers, author of different books on innovative experiences with Information Technology and Communication about the Mooc Research lines related to the university MOOC, Augmented / Virtual Reality, ICT in training contexts, design and implementation of Multimedia Educational Materials (MEM) and training of educators in emerging technologies.


Eva Mårell-Olsson
has many years of experience of conducting projects about the use of digital technologies in the education sector (i.e., K-12). Her research interests concern gamification as a teaching design with the use of contemporary digital technologies and the innovative use of Augmented Reality (AR), Virtual Reality (VR) and Artificial intelligence (AI) in teaching and learning and how these technologies can enhance teaching and learning in various fields and disciplines. She has also been conducting the project "The World's Smartest Dental Clinic - Digital Transformation of Dental Healthcare", that included, for example, a project on how to use an AI (e.g., SIA) as a receptionist where patients could ask questions and get answers and communicate with the staff at the clinic.

Amuthageetha Nagarajan
a senior education specialist at National University Singapore's Center for Development of Teaching and Learning, formerly held positions as Educational designer at Monash University in Malaysia and the University of Melbourne in Australia. She has an engineering background and a Master's in Business Administration and Management. She holds a PhD in E-Learning design, and her research focused on e-courseware evaluation with students in Higher Education institutions. Engineering Education, Computational Thinking, Games and learning, Pedagogical models for connected learning, and intelligent learning environments are her main research interests.


Stavros A. Nikou
is Lecturer in Digital Education at the School of Education, University of Strathclyde, UK. He is the Course Leader of the Postgraduate Certificate in Technology Enhanced Teaching and Learning (Digital Education) at the School of Education. He holds a Ph.D. in Information Systems, University of Macedonia - Greece, a M.Sc. in Computer Science, University of Houston (CL) and a B.Sc. in Physics, Aristotle University of Thessaloniki. His research interests include technology-enhanced teaching and learning, instructional design, technology acceptance, online learning, mobile learning and assessment, AR/VR/MR. He is Senior Fellow of the Higher Education Academy (SFHEA) and Senior member of IEEE (SMIEEE).


Eduardo Nunes
has a degree in Economics and a Masters degree in Management. Currently is a researcher with the inED (Center for innovation and investigation in education) of the Polytechnic Institute of Porto and responsible for the research project Schoolers and Scholars, focused on the development of educational roleplaying digital games and other roleplaying solutions for the learning and teaching of basic level students in Portugal. He also coordinates the development and design team of KendirStudios, an educational game development studio, where he focuses on tasks related to game design and project management.


Chinonye Leuna Obioha
is currently a PhD candidate in Informatics in the Faculty of Design and Informatics at the Cape Peninsula University of Technology. He has a keen interest in understanding users' role in designing community and business innovations. His research areas include gameful design, community and business innovation, digital-for-development, and design anthropology.


Antonio de Padua Palacios Rodriguez
Graduated in Primary Education (English language) at the University of Seville. He has also completed the University Master's Degree in Management, Evaluation and Quality of Training Institutions at the same university institution. He is member of the Didactic Research Group (GID-HUM 390): Technological and Qualitative Analysis. He currently works in the Department of Didactics and Educational Organization of the Faculty of Education Sciences, University of Seville. His teaching and research experience is related to Educational Technology and teacher training.

Jesús Pinto Sosa
Bachelor in Education with a Master in Higher Education from the Faculty of Education of the Autonomous University of Yucatan (UADY); and a PhD in Mathematics Education from the University of Salamanca (Spain). In the last three years she has collaborated in research related to: a) statistics with projects in high school and undergraduate, b) statistical and digital literacy in secondary and university students and teachers, and c) teaching and learning in times of pandemic. For the last three years he has been interested in studying educational inequality and quality gaps in poor and highly vulnerable communities. He is a research professor at the Faculty of Education - UADY, belongs to the consolidated academic body of Curriculum and Instruction and is recognised by the National System of Researchers by CONACYT, level 1. His lines of research are: teacher training, statistical education and digital literacy.

João Ramos
(PhD) is Guest Adjunt Professor at the Department of Informatics, School of Management and Technology, Polytechnic Institute of Porto. He is also a researcher at the Center for Research and Innovation in Business Sciences and Information Systems, with interests in the fields of Artificial Intelligence, Machine Learning, Informatics applied to Health. João received a PhD in Biomedical Engineering, Major in Medical Informatics, from University of Minho where he developed an orientation method for people with cognitive disabilities, which uses Speculative Computation and Trajectory Data Mining to adjust the travelling path to the user preferences.


William Reyes Cabrera
is a Full-Time Professor in the Faculty of Education at the Autonomous University of Yucatan (UADY) Mexico, teaching subjects at undergraduate and postgraduate level in the areas of Educational Technology, Curriculum Design, Teaching and Planning. Bachelor in Education from the UADY, a Master's Degree in Learning Technologies from the University of Guadalajara (Mexico), a Doctorate in Educational Research for the Development of Curriculum and School Organisations from the University of Granada (Spain), and a Specialisation in Virtual Learning Environments from the Virtual Educa Teacher Training Institute (Argentina). His research interests are innovative teaching strategies in virtual media and the use of technologies in education.

Rui Rodrigues
is a an Assistant Professor at ESMAD - School of Media Arts and Design (Polytechnic of Porto). He holds a PhD in Information and Communication in Digital Platforms. He is also a member of the Digital Media and Interaction research group (DigiMedia). An eye tracking enthusiast, his research and development activities cover many aspects of UX, IxD and evaluation & usability studies, with particular interest on understanding how people perceive, interact and use digital content.


José Manuel Sáez-López
is Professor in the Faculty of Education, at the National Distance Education University (Spain). [ORCID: orcid.org/0000-0001-5938-1547]. HExpert in Educational Models and Educational Technology. His scientific and academic work has been published in 51 peer-reviewed journals, of which 25 investigations have been published in impact journals: 8 JCR-Q1, 1 JCR-Q4 and 16 Scopus (Q1=1, Q2= 9, Q3= 3, Q4= 2). In 20 of these impact studies he is the main author. His lines of research are the integration of educational technology in learning processes, didactics, coding at school, gamification, virtual learning environments, the educational use of interactive videoconferences, and methodological strategies. He was a primary school teacher for 17 years (2001-2017), with various specialties and part of the management team for 8 years (head of studies and director).


Luís Sampaio
has a Degree in Web Development by ESMAD – Polytechnic Institute of Porto. Currently, he's working as a systems game developer of educational 3D games in KendirStudios. Is a researcher at the inED (Center for innovation and investigation in education) of the Polytechnic Institute of Porto and teaches Algorithmic Studies in a Game Development based professional course.

Rita Santos
is a professor at Águeda School of Technology and Management, University of Aveiro. Her research interests are related with the design of digital solutions to promote quality of life, well-being and environmental awareness.


Arkendu Sen
an anatomist/ophthalmologist by training, is an Associate Professor at the Jeffrey Cheah School of Medicine & Health Sciences, Monash Malaysia, a Fellow of the Monash Education Academy and a Senior Fellow of the UK's Higher Education Academy.With his passion for medical digital education, even before he got his PhD in Technology Enhanced Learning (TEL), he had researched/designed cutting edge Educational Technology innovations in Practical skills Learning of large cohorts, Peer teaching Methods, and Innovative Collaborative Learning culminating in the design of Medical Anatomy and Pathology E-Learning (MAPEL) Lab - an exemplar of state-of-the-art learning environment and pedagogy showcased nationally and internationally. He holds a joint patent and ITEX medal on Collaborative Learning systems of Surface-touch Computers. He is now researching on New Methods of 3D Visualization of learning objects and developing and studying the impact of gamification and XR including Augmented/Virtual reality education tools. Along with educational research grants, his innovations have been recognised through numerous awards, including a Best Paper, Australian Government OLT Citation, International RH Innovation in Medical Education Award (twice), Vice Chancellor's Teaching and the Faculty Dean's Award (twice).


Fábio Silva
is an Adjunct Professor at the School of Technology and Management of the Polytechnic Institute of Porto. He is also an integrated member of the research center, CIICESI, of the same institution, as well as a collaborator with the Algoritmi research center center, in the Informatics Department of the University of Minho. He holds a PhD in Informatics with a European mention from the University of Minho. He conducts scientific research in the areas of Machine Learning, Internet of Things, Industry 4.0, and Smart- Cities. His main interests are focused on data acquisition and processing from ubiquitous systems to define services and intelligent decision support systems. Over the past few years he has participated in several research projects in these areas, with practical applications. He is the author of more than forty scientific publications in journals, book chapters, and articles in indexed conference proceedings. He has actively participated in the organization of special sessions and international workshops at international scientific events and is a program committe member of several conferences in the field of interest.


Raquel Silva
has a Degree in Web Development by ESMAD – Polytechnic Institute of Porto. She's the main implementation game developer in KendirStudios, focused on educational 3D games. Is also a researcher at the inED (Center for innovation and investigation in education) of the Polytechnic Institute of Porto and teaches Currently teaches a professional course based in Game Development.


Steven L. Tanimoto
received the bachelors degree from Harvard University, and the Ph.D. from Princeton University. He has served as Editor-in-Chief of the IEEE Transactions on Pattern Analysis and Machine Intelligence. He is Fellow of the Institute of Electrical and Electronics Engineers and of the International Association for Pattern Recognition. He is the author of The Elements of Artificial Intelligence, 2d ed. (W. H. Freeman, 1995), and An Interdisciplinary Introduction to Image Processing (M.I.T. Press, 2012). Past organizing activities have included program committee chair and co-chair for the International Symposium on Visual Languages and Human-Centric Computing. He currently serves as Professor of Computer Science and Engineering and Adjunct Professor of Electrical and Computer Engineering at the University of Washington, Seattle.


Esteban Vázquez-Cano
is professor in the Department of Didactics and School Organization at Universidad Nacional de Educación a Distancia (UNED), Spain; where he is the Director of the Research Group RADTE (Methodological strategies for the construction of a distance network of educational technology) and the Coordinator of the Teaching Innovation Group MAPE-TIC (Didactic models for personalized and scalable learning through emerging technologies in ubiquitous and mobile contexts). He serves as an Arbitration and Triage Editor of the British Journal of Educational Technology and he is currently working on the boundaries between mobile and ubiquitous learning, particularly on personalized and adaptative learning contexts in scenarios mediated by emerging technologies.

Ana Isabel Veloso
is an Associated Professor of the department of Communication and Art, in the University of Aveiro. Her research interests include video games, information and communication in technological mediated contexts, gerontechnology.


Izak van Zyl
is an Associate Professor and Director of the Centre for Postgraduate Studies at the Cape Peninsula University of Technology, Cape Town, South Africa. He has a strong publication record in the field of the communication sciences, and his predominant research interests include digital anthropology and media, the philosophy and ethics of informatics, and design anthropology. Methodologically, he is interested in digital ethnographic, participatory and meta-analytic approaches.