Welcome ...
... to the website of IxD&A
a SCOPUS and Web of Science - Emerging Sources (Thomson Reuters) indexed Journal !
---

NEWS:
• Ballot to select Best IxD&A (paper) of the year 2015
Each individual is allowed to give only one vote to only one paper.
To be fair authors are kindly requested not to vote for their own paper.

-> Paper of the year 2014 and the other papers selected for the ballot
• 2017: Call for Special Issues and Focus Section proposals is now
** open ** -> read the call
Deadline: Open call till the filling of all available slots -> only focus section slots still available
Notification with feedback to the proponents: within 30 days from the date of the proposal submission
• 2015 in figures: around 35% acceptance rate, 4 issues, 33 published papers written by 108 authors from 5 continents (21 countries).
-> full stats
• N. 27 is now available for downloading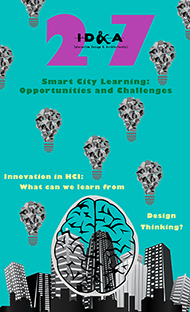 'Smart City Learning: Opportunities and Challenges'
guest editors:
Paloma Diaz, Universidad Carlos III de Madrid, Madrid, Spain
Monica Divitini, Norwegian University of Science and Technology, Trondheim, Norway
Fernando Ramos, Universidade de Aveiro, Aveiro, Portugal
with a focus section on:
'Innovation in Human Computer Interaction: What can we learn from Design Thinking?'
Guest Editors:
Alma Leora Culén, Department of Informatics, University of Oslo
Asbjørn Følstad, SINTEF
see Tables of Contents -> ToC n. 27
---
Next issue:
• Spring 2016
'Mobile learning and Special Education'
Guest Editors: Peña L. Bedesem, Enrico Gandolfi, Richard E. Ferdig, C. C. Lu
-> expired
with a focus section on:
'Emotions and Personality in Personalized Systems'
Guest Editors: Nadja DeCarolis, Marco de Gemmis, Andrej Košir and Marko Tkalcic
-> expired
---
Open issues:
• Summer 2016
'The Social Innovation capacity of Open Education and Learning'
Guest Editors: Carlo Giovannella & Demetrios Sampson
with a focus section on:
'Experiences of Technology Appropriation: Unanticipated Users, Usage, Circumstances, and Design'
Guest Editors: Alina Krischkowsky, Nervo Verdezoto, Manfred Tscheligi, Michael Muller
Preliminary communication on further scheduled issues:
• Autumn 2016
'On Making'
Guest Editors: Joep Frens, Bart Hengeveld, Pierry Levy, Patrizia Marti
with a focus section on:
'Player and Learner eXperience'
Guest Editors: Monica Divitini, Gabriella Dodero, Rosella Gennari
• Winter 2016
'Smart Learning Ecosystems and Regional Development'
Guest Editors: Alke Martens, Radu Vasiu, Annika Wolff
• Spring 2017
'The Future of Human-Building Interaction: An HCI Perspective'
Guest Editors: Hamed S. Alavi, Denis Lalanne
• Summer 2017
'Connecting Learning Design and Learning Analytics''
Guest Editors: Davinia Hernandez Leo, Yishay Mor, Maria Jesus-Triana, Paul Salvador
• Autumn 2017
'Emerging Design: Transforming the STEAM Learning Landscape with the Support of Digital Technologies'
Guest Editors: Daniel Spikol, Jalal Nouri, Teresa Cerratto Pargman, Marcelo Milrad
---
• Citation of papers published on IxD&A
We recommend to use the following citation schemes (to be adapted to the specific Journal format):
Surname1 N1., Surname2 N2., Surname3 N3.: Paper Title, IxD&A Journal, N.23, 2014, pp. 15--30
(if you wish you can use the full name of the Journal, but in this case do not forget to add the short name, as follow: Interaction Design & Architecture(s) - IxD&A Journal)
Submission of regular contributions is always open -> click here

---

IxD&A implements the Gold Open Access (OA) road to its contents with no charge to the authors (submission & paper processing) and implements a veritable 'place' (in contrast to the largely diffused 'electronic no-places') and community trying to balance sense of belonging to a community and promotion of the individuals.
If you wish to help us in improving the quality of the journal, please contribute. Any small contribution will be very much appreciated.
Donations are collected through the no-profit scientific association ASLERD. Information about funds collected and their usage will be published periodically on this website.
Thank you in advance for the support to your journal and your community.
IxD&A fully supports the IEEE Statement on Appropriate Use of Bibliometric Indicators
-> link to the short version
-> link to the full .pdf document

IxD&A Indexing and Stats

o -> Aims, scopes and editorial policy
o -> Topics of Interest
o -> People
o -> Media Kit
o -> Call for contribution

IxD&A is also on Linkedin (visit and join the group).