Welcome ...
... to the website of IxD&A
a SCOPUS and ESCI (Emerging Sources Citation Index - Web of Science, Thomson Reuters) indexed Journal !
---
NEWS:
• On the occasion of the integration of videos in the IxD&A website the journal took anther step into the future and started to issue blockchain anchored e-certificates for the authors and the guest editors that take part in the Meet the Authors events by introducing the corresponding issue and presenting their own papers.
• Inaugurated the video era (the third one) of IxD&A journal with the event 'Meet the Authors' of special issue N.47
An overview of IxD&A Journal @ Meet the Authors N. 47
• On April 2021 inaugurated the IxD&A Youtube channel
-> link
• 2022 Open call: is now on-line -> read the call
Notification with feedback to the proponents: within 30 days from the date of the proposal submission
• SCOPUS coverage of IxD&A is going to be back-extended till Winter 2008 (Issue N. 3-4)
• N. 50 is now available for reading and downloading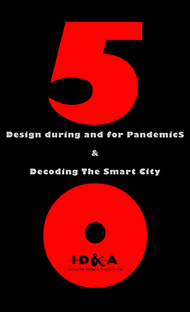 focus section on
'Design during and for Pandemics'
Guest editors: Vasiliki Mylonopoulou, Guido Giunti
and
focus section on
'Decoding The Smart City'
Guest editors: Teija Vainio, Elise Hodson, Michel Nader Sayún, Ralf-Martin Soe
---
Next issues:
• Winter 2021 - N. 51
'Speculative and Critical Design: approaches and influences in education'
Guest editors: Ingi Helgason, Enrique Encinas, Ivica Mitrovic, Michael Smyth
submission closed -> link to the call
focus section on
'Educational Location-based Applications'
Guest editors: Jannicke Baalsrud Hauge, Esteban W. G. Clua, Jimmy Jaldemark, Heinrich Söbke
submission closed -> link to the call
• Springer 2022 - N. 52

'Smart learning Ecosistems and Regional Development 2021'
Guest editors: Mihai Dascalu, Tania Di Mascio, Oscar Mealha
submission closed -> link to the call
---
Open calls:
• Spring 2022 - N. 52
'Gamification of the Learning Process'
Guest editors: Davide Carneiro, Pilar Cáceres, Mariana Reimão Carvalho, Rui Silva
Preliminary communication on further scheduled issues:
• Summer 2022 - N. 53
'Online Social Environments for Active Ageing'
Guest editors: Ana Isabel Veloso, Carlos Santos, Sonia Ferreira, Liliana Costa
---
• Citation of papers published on IxD&A
We recommend to use the following citation schemes (to be adapted to the specific Journal format):
Surname1 N1., Surname2 N2., Surname3 N3.: Paper Title, Interaction Design & Architecture(s) - IxD&A Journal, N.23, 2014, pp. 15--30
Submission of regular contributions is always open -> click here
---

IxD&A implements the Gold Open Access (OA) road to its contents with no charge to the authors (submission & paper processing) and implements a veritable 'place' (in contrast to the largely diffused 'electronic no-places') and community trying to balance sense of belonging to a community and promotion of the individuals.

If you wish to help us in improving the quality of the journal, please contribute. Any small contribution will be very much appreciated.
Donations are collected through the no-profit scientific association ASLERD. Information about funds collected and their usage will be published periodically on this website.
Thank you in advance for the support to your journal and your community.
IxD&A fully supports the IEEE Statement on Appropriate Use of Bibliometric Indicators
-> link to the short version
-> link to the full .pdf document

IxD&A Indexing and Stats

o -> Aims, scopes and editorial policy
o -> Topics of Interest
o -> People

IxD&A is also on Linkedin (visit and join the group).