---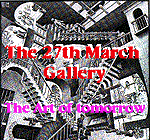 The Art Gallery @ the University of Tor Vergata
devoted to Artworks expressely created for the
It opened the 27th March 1995 and represents a free-access to the WEB for all the artists that intend to produce Internettian-Artworks.
---
Masterworks featured here:


Fuga dalla realtà - Virtual Escape - A.A.A.Cercasi - Pubelle - Douchamp Interactive - Brain Ecology

Plasticità Neuronale
---
We mirror also the internettian artworks of the project Margherita.


This copy, featured by Carlo Buzzi, Dario Ghibaudo and Filippo Falaguasta (courtesy of Pyrmid s.a.s), has been received for the exposition "Dalla Xerox al Baud: l"immagine fotografica nell'epoca della comunicazione ipermediale" (22 Mar.-4 Apr. '96) - The present version dates 15 Mar. '96.

---
Click here to know what is an "internettian-artwork" and how to submit your proposals


---

You can start to navigate into the presently featured artworks by clicking on their icon inside the right-botton frame.
---